Why Choose Reliable Managed Services As Your Managed Service Provider For Your Business
Choosing the right managed services provider is critical. This decision will directly impact your business's performance and success. Technology underpins nearly every aspect of your daily business process. Your business IT needs are continually changing, becoming more complex and demanding for your business to manage alone. Other business owners like you are increasingly realizing the importance of adopting IT systems that are efficient, flexible and cost-effective. Today's companies cannot afford to spend a large portion of their budget on establishing IT systems and relying on break/fix solutions.

Outsourcing enables you to strategically plan and budget for your IT needs. It is more cost effective than hiring an entire in-house staff. Achieving optimum business IT results are accomplished by selecting the right managed services provider. Here is why Reliable Managed Services is the right managed service provider for your business. Reliable Managed Services will cost-effectively meet your business's technology goals with our team of IT experts and reduce your IT stress, freeing your time and letting you focus on growing your business.
Reliable Managed Services' team of professionals has been servicing the IT needs of all sizes and types of businesses for 15 years. Our concept from the beginning was to solve issues before they affect a client's business. We act instead of react. Our approach is to proactively monitor and maintain our clients' business information technology, providing you with a stable, reliable and secure IT infrastructure.
Providing true managed services requires a substantial investment in both technology as well as expert staff to operate the service. Reliable Managed Services is financially secure and committed to making these investments in our future. Our reputation has been earned one satisfied client at a time and much of our business is from referrals from our clients in the same type of business. As our clients have evolved we have been there every step of the way. We attentively serve our clients through prompt and effective communication in a manner that allows our clients the comfort of understanding and enjoying user friendly technology.

We continually demonstrate our competency and consistency to all of our clients on a daily basis. Our entire team of experts is at your service; from dependable technology consultants to our expertly skilled engineers that work as your trusted technology partners. The RMS team knows system uptime is paramount to ensure the health of your business. Our state of the art network operations center provides 24/7/365 technical support when you need it. Our staff delivers personalized service, resolves problems effectively and we respect your time. RMS provides a dedicated service technician and secondary technician backup for each of our clients which gives you peace of mind knowing the team servicing your account knows your business, its equipment and needs.
Discover why so many businesses are turning to Reliable Managed Services for the best and brightest in managed IT support to effectively address all of these needs while reducing costs and increasing efficiency. Technology services from Reliable Managed Services are designed, created and implemented with your unique business needs in mind so you know you'll see a return on your IT investments today and in the future.
We serve the information technology needs of large, mid-sized and small businesses in all types of industries. Reliable Managed Services has the ability to manage IT systems and IT implementation in locations throughout Central Florida. With six area offices we are not limited to a single location in a single city.

Our skills go way beyond software installation, maintenance and upgrades. We create and provide solutions and offer options to facilitate and support everyday businesses activities from managed IT services, data center and network services, database management, virtualization, secure flexible cloud solutions, software as a service (SaaS), security solutions, cross-platform integration, information management, security patches, antivirus and firewall protection, systems design, backup systems, disaster recovery, business continuity planning & implementation, systems assessments & implementations, vulnerability & penetration testing, new compliance measures and network infrastructure management to name a few. We have strong expertise in these technologies and others to meet the IT expectations and needs of your company.
For our larger clients we offer comprehensive IT services supporting and managing every aspect of your company's IT needs. We perform IT related tasks to your exacting requirements through our comprehensive suite of managed services. We analyze your IT needs and make appropriate recommendations for our services. We understand the need for cost-effectiveness and we are able to accomplish servicing your IT needs within those parameters.
Mid-size companies have specific needs that require a delicate balance of services. They are too big to just monitor yet do not have the larger budgets associated with a large business. For these clients we strike a middle ground wherein their core systems are strengthened and managed while we suggest and optimize additional services as needed; never compromising on security and performance.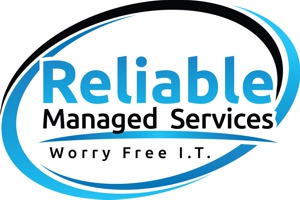 We effectively service our small size business clients by offering basic managed service packages. Our clients receive highly valued quality service focused on their specific corporate IT needs. Whether you just want monitoring of your IT to start out or a more comprehensive package to give you peace of mind knowing the RMS team has your back, we have you covered.
Our philosophy has always been very simple - to combine the basics of great customer service and professionalism like; personalized service, respecting your time, returning calls quickly and being on-time, with the highest level of technical expertise. While today's technology changes often, our philosophy on providing great customer service does not. Extra service is part of our regular performance. Give Reliable Managed Services to opportunity to prove to you our value, our commitment to excellence and our true desire to provide Worry Free IT and peace of mind.