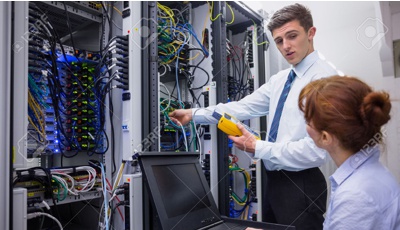 Complete Managed IT Services for Businesses in Orlando
If you are a business dealing with customers on a daily basis, the regulatory and security needs are numerous and just figuring them out can be time consuming, so let us do the heavy lifting. Our friendly and knowledgeable engineering staff can figure out the specifics to help your business grow.
Ideal for small businesses with between 15 and 500 employees, our Complete Package is designed for corporate small business environments between 15 and 500 employees in mind. Based on National Security Agency recommendations, our firm created a cutting-edge holistic security solution offering for Enterprise environments incorporating hosted email protection, traffic inspection, online filtering, desktop security, and complex data protection.
At Reliable Managed Services, our goal is to help your business grow by serving your information technology needs.
What You Get With The Complete Managed IT Services Package
Complete
Complete mid-level service option with 15 or more employees
Workstations & Servers
Support of workstations and servers. We support Windows, Apple and Linux platforms.
Mobile Devices
Support of your mobile devices including phones and tablets on both iOS (Apple) and Android platforms.
Malware Protection
Protects against, monitors and reports on a multitude of security threats like viruses, spyware, worms, rootkits and a whole host of emerging malware.
Patch Management
Ensures that operating system and application patches are tested and deployed on a schedule that doesn't interrupt your business.
System Maintenance
Performs a variety of automated maintenance tasks that keep systems running at peak efficiency.
Inventory Auditing
Get monthly reports about what IT assets, both hardware and software, you have and what their overall health is.
Power Management
Power settings policies and selective automated shutdowns provide instant return on investment.
Online Ticketing
Track open and closed support tickets from a central web portal.
Secure Remote Control
Gives technicians fast and secure remote access to resolve issues quickly.
99% Uptime Guarantee
Reliable Managed Services backs up our solutions with a service level guarantee. We implement a series of technical and process driven solutions that ensure a high level of availability.
Unlimited Remote Support
Unlimited email, phone, and remote support.You have an entire staff of IT professionals on call to support your business.
Unlimited Onsite Support
Unlimited onsite support for when remote support isn't possible.
24/7/365 Monitoring
he Reliable Managed Services Network Operation Center (NOC) watches for important events as well as critical alerts from backups, malware protection, patch
Onsite Backup
Entire system backups using cutting edge image-based technology, so restores are fast and complete. Reporting and alerting ensures failed backups are a thing of the past.
Offsite Backup
Protects critical data on your systems by backing it up to a secure datacenter.
Gateway Security
Tamper-proof hardware based gateway security protects your network from hackers and intrusion and stops threats before they get in. It also increases user productivity and limits liability with content filtering, so you can prevent users from going to inappropriate web sites.
Email Security
Block unwanted spam, viruses and other threats in email before they get to your network. Also holds your email in case your server is down or Internet connection is lost ensuring that senders' messages to you don't get lost.
Vulnerability Scanning
External penetration testing to expose and correct weaknesses.
Network Mapping
Get detailed information about how your systems are connected, important passwords and critical settings.
Server Administration
Creation of new user accounts, email addresses, configuring remote access, setup of file sharing and other server supporting efforts.
Physical Security
Review and suggest changes to physical access controls.
Malware Removal
Manual removal of infections that might get through other layers.
License Management
Review and track software license usage and compliance.
Quarterly Reviews
Review tickets, projects, budgeting and all virtual CIO (Chief Information Officer) services.
Advanced Multi Layer Security
Advanced multi-layered security that is based on National Security Agency recommendations.
Basic Package Complete Package Premier Package Cloud Package Compare Packages